Paintman provides for you
Discover hundreds of colors to find the right one for you. Our Painting Service NYC has a gorgeous selection of beautiful paint colors that are perfect for your project.
Mix, match, try new things, and find something unexpected. Find your perfect look with the help of our design and inspiration galleries.
Find the product you need in our range of quality paints. Trust that your home's color will look great and last for years to come with our NYC Painters products.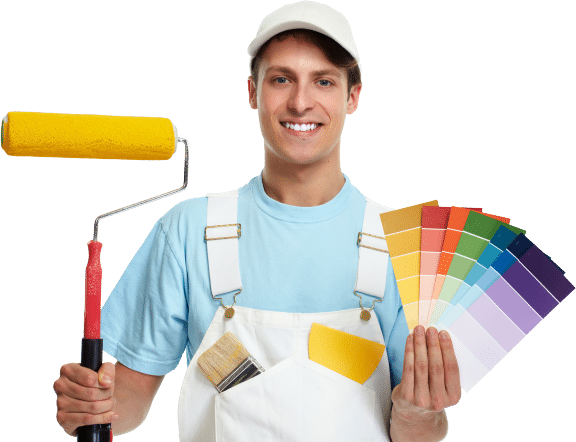 Hello! I am Paintman –
A Professional painter in NYC
I will help you to get your home or office painted. I have simple answers to a few questions, and you'll have an accurate quote within minutes! If you know your paint colors and are ready to book your job, select a start date and pay the deposit online. If you need a little help, I'm here to answer all your questions!  Painting has never been this easy.
Inspiration galleries
We have all popular color trends in 2019.

Kitchen, Restaurants and other venues
Impress your guests. Your guests will have an amazing impression with the ideal design that is fitting for a culinary establishment.

Living and Dining rooms
Show off you communal areas of your house to your quests by choosing from our huge selection of different colors.

Offices and workspaces
Let us help you even in your workplace by creating a calm and relaxing environment suitable for productive work.

Family-oriented and Child-friendly places
Our Painting Service NYC will help you create your dream home that is a safe environment for children and satisfaction for a whole family.
Painting Service NYC products
Find the product you need in our range of quality paints from Profesional NYC Painters

Find the right color
High quality extensive collection of interior paints in over 4,000 colors

Consider your room
Different colors have become popular for specific rooms due to their performance features and aesthetic qualities.

Eco and natural product
Eco paints are improving all the time. Our Painting Service NYC uses only the highest quality paint with zero emissions.

Let us transform your space
Paintman has licensed and insured painting crews. Within 3-4 days, enjoy your on-time, in-budget paint job. We are one of the best NYC Painters, and we proud for it.
Your project with Paintman – Most Affordable Painting Service NYC has never been this easy
Paintman provides for you the Best Painting Service NYC
Here's why Painman is the best solution for your project

Licensed and insured painting crews, certified for quality and professionalism

Fast, free consultation from choosing colors to scheduling and booking

High quality eco-friendly paints in over 4,000 colors for each customer

Full complete setup, preparation, and clean up your space after finish project

Dedicated project managers for a single point of contact and coordination

Flexible start dates and fast turn around times for your convenience
Safety & Security
We take your safety and peace of mind seriously. That's why all of our nyc painters are background checked, licensed and insured. We also back all of our work with a 100% satisfaction guarantee, which means we're not done until you're satisfied.